Malayan States
Selected Collections from the current auction
Highlights of past Auctions
Lot
Topic / Description
Start Price
Hammer Price
Malayan States
3.000 €
5.400 €

1867-Modern: Mint and used collection and accumulation in six stockbooks, plus additions on stock pages and cards and on album leaves, a comprehensive ensemble of stamps from first Straits Settlements issue (all values, used mostly) to semi-modern Omnibus issues (incl. complete set of all 1948 Royal Silver Wedding issues, etc.), with a good number of early overprints on QV stamps (Sungei Ujong, Perak, Selangor a.o.), many complete sets of 1940's-1960's issues, several varieties, some high Dollar values (with SPECIMEN ovpt. or used fiscally), interesting cancellations (incl. stamps used in other States), fine mint sets etc., plus duplication, in mixed condition. A recommendable collection for the specialist.
Malayan States
10.000 €
10.500 €

1880-1970: Mint collection of the stamps issued for the various states, from Johore to Trengganu, housed in a 'Palo' hingeless album, with a lot of highlights as some early Johore overprints, Kedah quite complete including Type II printings and 1c. and 2c. with face value redrawn, Kelantan 'Sultan Ismael' cpl. set to $5, Negri Sembilan with 1898 4c. on 8c. showing double ovpt. in black and in red, Pahang with 1898 set to $5, Perak including 1895-99 cpl. set to $25 (SG 80, unused w/o gum), Selangor with 18 QV stamps showing various types of overprints and 1895-99 set to $10, and many other stamps and sets including difficult to find shades and perforations, a few stamps with minor imperfections, but mostly fresh and fine. An attractive and recommendable collection. (SG cat. value about £40,000 to £50,000)
Malayan States
30.000 €
38.000 €

1854-Modern: Collections and accumulations of stamps, Malay postmarks and covers, documents and presentation folders, multiples and sheets, booklets and other material, from 1854 (India used in Singapore) onwards till modern this is the massive balance of the Dr. Majid Collection Malayan States, housed in 2 filled schrankers with about 80 albums and 40 boxes, including f.e. stamp holdings from all Malayan states - some in qantities in stockbooks, some as duplicates and part as studies, with f.e. BMA MNH stock and blocks, collections cancellations also with Perak, Johore and Selangor, big box with hundrets of stamp booklets, Japanese occupartion several albums,etc, Straits Settlements stamps, covers and cancellations, Selangor specialized including many registered stationery envelopes, Kelantan nice part cancellation and also covers and postal stationeries, Sarawak (including nice stockbook), postage dues, Perfins, in the stockbooks sometimes also high values in quantities (like 5 $,..), BMA overprints also in blocks and part sheets, Perak with high catalogue value, many areas also with varieties, plate blocks and specialized, Kelatan including postal history, Specimen from various states, Japanese occupation postage dues, in the cancellations you will find also M.P.O (Mobile Post offices), TPO (Train postal offices), then we saw B-overpritns on Straits settlements, box with Brunei stamps (some specialized mounted on pages), hundreds of single lots of postal history like from Johore, Pahang, Selangor, Borneo, Perak, Labuan, Sarawak, FMS, BMA, .. including Registered Mail, Air Mails, Censored Mail, Tax cancels, small town cancels, routes and rates, destinations, ..., when you look further you will find old sheets, sheets japanese occupation, part sheets Sarawak, sheets of Brunei or the Orchid and Butterfly issues specialized, .. very inpressing f.e. also THOUSANDS of SHEETS of the 1986/2000 Fruits issue (huge postage and catalogue value), Kedah a lot of postal history as well as Penang, Singapore, Negri Sembilan, Pahang, Malacca, Selangor, ..., useful for sure also the huge range of covers II. World War including many censored covers and great variety in airmails and forces mail, and hundreds of interesting, unusual and valuable items more. A VERY COMPREHENSIVE ENSEMBLE FULL OF MALAY STAMPS AND POSTAL HISTORY.
Malayan States
2.000 €
5.800 €

1867/1979: Comprehensive collection of mint and used stamps from Malaysian States Straits Settlements/Trengganu including North Borneo, Labuan and Sarawak, B.M.A. and F.M.S., housed in six big stock-books along with duplicates, with a lot of better stamps, complete sets, short sets, high $-values (few mint, most of them used fiscally), some stamps and sets optd. SPECIMEN incl. high $-values, several early QV stamps with various types of overprints, etc., plus a sheet folder with complete sheets of B.M.A. stamps and few others, plus specials like an F.M.S. cover with Indian postage due mark. Although the quality is not even superb or perfect, there are a lot of good stamps, also various cancellations, shades, multiples, fine mint stamps, scarce types of overprints, and many interesting and valuable items more. (Ex GAN collection.)
Malayan States
15.000 €
18.000 €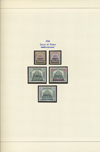 1878-1961, Mint collection of Federated Malay States Negri-Sembilan, Pahang, Perak, Selangor and Sugei Ujong as well as the Federated issues, NEAR TO COMPLETE with almost complete sets/issues including a lot of extraordinary highlights (many signed) like Pahang 1889 2c., 8c. and 10c. surcharged "PAHANG" or the diag. bisected 5c. surcharged 1897 '2' and '3', resp. (on piece, signed), Perak from SG 1 unused without gum (BPA cert.) with about 60 optd. stamps (incl. SG 16 certified by the BPA, multiples showing various types), the 1895-99 definitives to $5 mint, plus $25 optd. SPECIMEN, Selangor with 21 early QV stamps optd. by various types (few used), the 1895 definitives to $25 mint, Sungei Ujong with 13 early QV stamps with various types of "SUNGEI UJONG" opts., and Fed. Malay States with 1900 set to $5, 1901 set to $25, 1905-11 set to $25 and 1922-34 also to $25. Additionally there are a lot of shades, multiples, varieties, and a few covers and/or postcards. The condition is mostly fine/very fine, some stamps with lightly toned gum as usual. AN EXTRAORDENARY AND MOST IMPRESSIVE COLLECTION CONTAINING A LOT OF RARE AND ALMOST FINE STAMPS.
Malayan States
1.000 €
5.800 €

1869-1990 ca - FISCALS: Comprehensive collection of about 700 stamps, mint and used, from early Straits Settlement QV issues (1869 Judical or Marine Policies) to modern HASIL stamps, with Revenues up to $25 (1888 QV) and up to $100 and $500 (KG, QEII.) or $1000 (Hasil stamps), Revenues from several Malaysian States up to $250 values, some on pieces with complete red 'Stamp Office' seals, multiples, varieties, pices and two covers. In addition 25 'FRAMA' labels (1987) incl. ''00.00'' value. A very interesting collection. (Part of the famous Gan collection.)
Malayan States
8.000 €
16.500 €

1942-44, JAPANESE OCCUPATION OF MALAYA: Comprehensive collection both mint and used with most of the issued stamps (except some highest/rarest values) and most of the various overprint types for Straits Settlements, Johore, Kedah, Kelantan, Malacca, Negri Sembilan, Pahang, Penang, Perak, Selangor, Trengganu and general issues plus postage dues, with overprints in various colours (particular strong in small seal ovpts.). With a lot of varieties as inverted overprints a.o., many multiples (more than 250 blocks of four and larger multiples), also several fiscals, and specials like some pieces. Also included is a small collection of Thai Occupation issues. An impressive and fine collection of about 2000 (or more) stamps from which only a few/some overprints are doubtful to us (not calculated). (Part of the famous Gan collection.)
Malayan States
3.000 €
10.000 €

1867-2000, Comprehensive collection mint and/or used well written on pages in two big volumes, starting with Straits 1867 Crown ovptd stamps (1½c, 8c, 24c and 30c all unused, 12c used), following issues up to KE $5 (and $25 ovpt SPECIMEN), KGV. to $5 mint (and up to $500 used fiscally), followed later by BMA series incl. $5 orange, Fed. Malay States to mint $5 values ($25 used fiscally), all the Malaysian States Johore-Trengganu with a lot of surcharged early issues and valuable stamps as Johore up to $100 mint ($500 used fiscally), Kedah cpl. series to $5 mint, Kelantan including complete Borneo Exped. series and Sultan Ismael series fine mint, Sungei Ujong with 16 QV 2c ovptd by different types (two used, unused else) etc, Perak with 18 unused QV stamps ovptd by mostly different types, Sarawak near to complete, or Trengganu issues to various $5 mint, plus some North Boreo and Labuan.
Malayan States
4.000 €
23.000 €

1867-1979 (ca.), specialised collection in three Lindner albums with a wide variety of better stamps starting with Straits Settlements optd. set of 9 */(*), QV definitives with surcharges, KEVII to $100 and $500 (without gum with signature) optd. SPECIMEN, KGV to $500 optd. SPECIMEN mint lightly hinged, Postage Dues and Japanese Occupation opts., BMA Malaya, Federated Malay States with elephants to $5 and $25 optd. SPECIMEN etc. and the Malayan States from JOHORE through to TRENGGANU with a great part of better stamps incl. surcharges and Japanese Occupation and finally Malaysia, unused mint (hinged or MNH with few without gum) and some used stamps, mixed but mainly fine condition for this fantastic collection with a SG. cat. value of more than 80.000pds. (2008) stated by owner - please inspect carefully!