Thematics: Olympic Games
Selected Collections from the current auction
THE WORLD OF SKIING: Olympics 1924 Chamonix. The Founding of FIS on February 2, Gold Medal Winning Collection beautifully mounted & knowledgeably written up 127 album pages showing the different sides of skiing and its impact on sport and culture in the snow-covered part of the world. Skiing, together with skating, were the main sports that established the Olympic Winter Games, and although there have been strong conflicts between the IOC and the International Federations for the winter sports, skiing is today the undisputed most popular winter sport in the world, and the Olympic Winter Games have grown in popularity every fourth year. The World of Skiing covers the various skiing sports, from cross country to snowboard, and from ski touring to speed skiing. The collection also shows how skis have been used in war, and how skiing has grown to be a strong activity in international tourism. A truly wonderful collection, having been recognized at the highest level as one of the most important collections covering the theme of Skiing ever formed, 2008 Beijing Goldmedal with 92 points, best exhibit.
THE WORLD OF SKIING: Die Sammlung hat ihre Goldmedaille verdient. Sie ist wundervoll zusammengestellt und mit viel Liebe und Sachverstand beschrieben. 128 Seiten erzählen von verschiedenen Aspekten des Skisports und seinen Einflüssen auf Sport und Kultur im schneebedeckten Teil der Welt. The World of Skiing zeigt die verschiedenen Spielarten der Skisports von Langlauf über Snowboarden, von Tourenski zu Abfahrtslauf. Die Sammlung zeigt auch, wie Ski im Krieg eingesetzt wurden und wie Ski fahren zu einem wichtigen Zweig im internationalen Tourismus geworden ist. Eine wahrhaft wunderbare Sammlung, die auch auf höchster Ebene als eine der wichtigsten Sammlungen zum Thema Ski fahren, gewürdigt wurde.
Highlights of past Auctions
Lot
Topic / Description
Start Price
Hammer Price
Thematics: Olympic Games
5.000 €
12.000 €

1936, Berlin, Olympia-Block 3/40 Pfg. ungezähnt, postfrisch, signiert Dr. Oertel und Fotoattest A. Schlegel BPP: "....weist einen kleinen Bug im rechten unteren Blockrand auf, ansonsten in die Qualität einwandfrei!" - sehr seltener Block für die große Olympia-Sammlung!
Thematics: Olympic Games
5.000 €
14.000 €

1936, Berlin, Olympia-Block 8/25 Pfg. ungezähnt mit SST "KIEL 10.8.36 b", Kabinett, Fotoattest A. Schlegel BPP: "....Die Qualität ist einwandfrei!", mit SST von Kiel äußerst selten, vielleicht in dieser Form einmalig!
Thematics: Olympic Games
4.200 €
5.600 €

1900, Griechenland: Olympia-Überdruckmarken "25 L" auf 40 L violett, "50 L" auf 2 Dr. oliv, und "1 Dr" auf 5 Dr. grün als einwandfrei erhaltene und bisher einzigartige 3-Farben-Frankatur auf Luxus-Paketkarte von "CORFU 7 NOV 1901" nach Trieste mit rs. AK vom 22.11.01.
Thematics: Olympic Games
6.000 €
11.300 €

1896, Greece for Athens 1896, short Olympic set of nine 1L. to 1d. (Scott #117/25) used on cover addressed to Switzerland, with Athens 9 first day cancellations, envelope with flap missing and a few minor perimeter faults, fine and very rare FIRST DAY COVER - great exhibition item.
Thematics: Olympic Games
8.000 €
8.200 €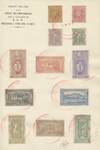 Griechenland 1896, Olympiade, kompl. Satz in einwandfreier Erhaltung auf Komitee-Klappkarte mit rotem Cachet-Stempel, Fotoattest Calves
Thematics: Olympic Games
6.000 €
8.600 €

OLYMPISCHE WINTERSPIELE 1936 Garmisch-Partenkirchen: mehrfach national und international Gold-prämierte Ausstellungssammlung auf 84 Blättern »Vom Werdegang bis zur Durchführung« mit vielen frühen Belegen wie Paris 1900, Stockholm 1912, Antwerpen 1920 und Vorläufern der Winterspiele Chamonix 1923/24, aus 1936 Belege des Bürgermeisters und des Organisations-Komittees, Stempelvarianten mit Sonderpostamts-Nebenstempel, offizielle Karten, Olympia-Schmuckblatt-Telegramm, FDC der Olympia-Marken, Ganzsachen und vieles mehr, eine Besichtigung wird Sie überzeugen, beachten Sie bitte auch die Foto-Tafel. OLYMPISCHE WINTERSPIELE 1936 Garmisch-Partenkirchen: severalfold gold awarded (national and international) exhibition collection named »DEVELOPMENT AND REALIZATION«, containing many early covers eg. Paris 1900, Stockholm 1912, Antwerp 1920 and forerunners of the Chamonix 1924 winter games, from 1936 covers of the mayor and the organizing committee, cancellation variations special post offices, official stationeries, special Olympia telegram, FDC (Olympia stamps) and a lot of other nice things, an inspection will convince you, and also have a look at the photo board, please.